Definitions
---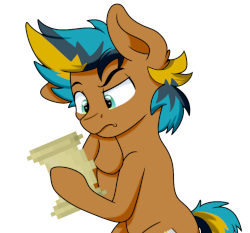 User - Any person who has connected to and used any services provided by BronyTales
Staff - Users of the Network with elevated privileges for purposes of building, moderation, and administration of servers within the BronyTales Network.
Administration Staff - Users of the Network with access to core server files for the purposes of development and maintenance, typically referred to as "Admins"
Network - Collection of servers and services provided by BronyTales, including but not limited to Minecraft and Discord Servers.
Content - Any data stored or shared on any servers controlled by BronyTales
Terms
---
By using any of the services supplied by our Network, you agree to be bound by this Terms of Service, the Rules defined on the
Server Rules
page on this website, and to hold harmless BronyTales and its Staff and all other persons acting under their authority from any liability resulting from using our services within the Network, and that you understand and agree that we cannot be responsible for Content and actions of our members. BronyTales reserves the right to update and change this Terms of Service and Rules without notice, but will make an effort to give notice in the event of some major revision. Violation of any of the terms will result in a review and, at Administration Staff's digression, termination of your Network access. We are not affiliated with Mojang AB or Hasbro, Inc in any way. We are a non-profit, unregistered online entity of enthusiastic fans with no source of revenue except for donations.
BronyTales Mission
---
BronyTales strives to curate an environment that is safe for players of all ages while also maintaining a friendly and fun game experience.
To make this goal a reality, we are taking multiple steps towards transparency:
Rules and repercussions are clearly outlined with very little room for interpretation.
All staff actions against players will be logged and displayed on our website. (still under construction)
All tickets that are sent via the server and freshdesk will be displayed. (still under construction)
Accusations of illegal behavior or activity will be investigated.
All gameplay changes, no matter how small, will be mentioned in the changelog on the Discord Server.
All rule changes will be logged, and changes made will be shown clearly. An announcement will also be made so players can review the rule change.
Any changes that may affect player gameplay will be announced.
All staff actions against players and all ticket(in game and freshdesk) responses will be shown on a page on our website. (still under construction)
To better curate a safe environment for all Users, we will be taking additional steps to ensure a healthy relationship with players and staff:
All major events involving players, regardless of how they affect the server, will be responded to.
Any allegations of illegal activity will be investigated to our fullest extent before action is taken.
We reserve the right to remove any players who are creating a negative experience for other members on the server.
All tickets will be subject to our servers rules. Any violations or privacy issues within the ticket will result in the ticket being modified for the purposes of public viewing. All tickets will display with Name, Ticket Section, Date, Status. Once reviewed, ticket content will also be visible so long as they do not violate user privacy.
Staff are to promote a safe, fun, and friendly environment for Users of the Network. Being a member of Staff does not entitle any user to any special treatment or compensation. Any Staff members that are unable or unwilling to fulfill the duties assigned by Administration are subject to having their Staff role removed at the digression of Administration Staff.
Content Ownership
---
All Content may be retained, removed, or used at the discretion of BronyTales Staff. By submitting Content to our Network, or by submitting Content to Staff via email accounts or other contact media, or by creating Content on our Network, you grant us perpetual, irrevocable, worldwide, non-exclusive, royalty-free, rights to use, copy, modify, adapt, distribute, prepare derivative works of, perform, or publicly display that content.
Privacy
---
Some information may be collected during the server Network as a means of providing service, including: IP address, Minecraft username, Minecraft account UUID, Discord account ID, User-set nicknames, email addresses (for staff), and any User-defined content shared on the network. Any personally-identifying information collected by BronyTales for any purpose will not be disclosed or distributed by any means without the express permission from the individual identified by that information, with the exception of nicknames, Minecraft playernames, and IDs.
Prohibited Behavior
---
You agree NOT TO:
Use or encourage others to use the Network for any illegal purpose.
Use the Network to distribute any illegal, vulgar, or other "NSFW" Content.
Make unsolicited or inappropriate offers, advertisements or proposals for goods, services, or other commercial activities.
Impersonate any Network users on any servers controlled by BronyTales or on any other platform outside of BronyTales.
Interfere with any security-related features of the Network.
Harass, bully, intimidate, or abuse Users of the Network.
Save, reproduce, mimic, or otherwise copy any Content on the Network, for either personal use or public distribution, unless you you hold the sole, original copyright on that content.
Release or distribute any BronyTales Server Content without written approval from Administration Staff.
Share any account or login information with another party in order to access the Network.
Safety
---
BronyTales strives to curate an environment which is a safe and fun place for players of all ages, and as such take risks to that safety very seriously. BronyTales has a "Zero Tolerance" policy for confirmed instances of publishing, sharing, or endorsing material which involves, describes, or implies foal-related sexual relations or distribution of sexually explicit material to minors.
If you have evidence of any of these behaviors from a user on BronyTales, please do not hesitate to contact a member of administration with the information so that we can investigate the issue and take appropriate action.